My plan was to introduce each room on its own, but in reality the kitchen, media, dining and living room all relate and rely on each other! A single decision in one room can seriously affect the look of the neighboring room when they are all open to each other. I always tell clients that one small change has the potential to cause a snowball affect of changes down the line of a project. Well... I just went through that myself on this house due to a lack of budget (SAD FACE SAD FACE SAD FACE). So in total transparency let me show you the cause/effect of changing one single finish from my experience!!
We are acting as the contractor, therefore we guesstimated the costs of each line item until we sent out and received real quotes. For the most part we were fairly accurate, but I was a good bit off on my cabinetry estimate! I thought I had room in the budget to splurge on some fancy flat panel wood veneer in the media room cabinets.... but once I started getting quotes I realized it was a bit more of a splurge than I could handle (cough cough *afford*). I cried a whole lot inside but had to quickly move on and make a decision on the new cabinet style. I was so set on that specific veneer that a regular stained wood cabinet was not going to cut it, and I knew I should just switch them to paint grade like the kitchen (and its cheaper!).
Because the two rooms are open to each other the [next] best choice was for the cabinetry style to match… but here lies the issue. I had picked BRIGHT green for my kitchen cabinet paint. The media cabinet wall is huge - way too big to be painted bright green. SO it was time to start re-thinking the paint color in the kitchen so it would be suitable for both.
Cindy and I went back and forth between black paint and dark green paint. We used some of the trial cabinet doors to test out colors.
*also, notice the difference between a regular shaker (on the right) and the "double shaker" on our doors? I LOVE how they turned out*
I ended up choosing the dark green. It's so close to black, but with a little more interest. It is way less of a commitment than the original bright green and it reads like a neutral. But now we still have to figure out the stain on the wood floors. I had always envisioned a dark black stain, but with the newest change I am contemplating a natural/bleached look? And if I change the floors I will re-think the rugs I was looking into for the media room.... See what I mean by snowball effect??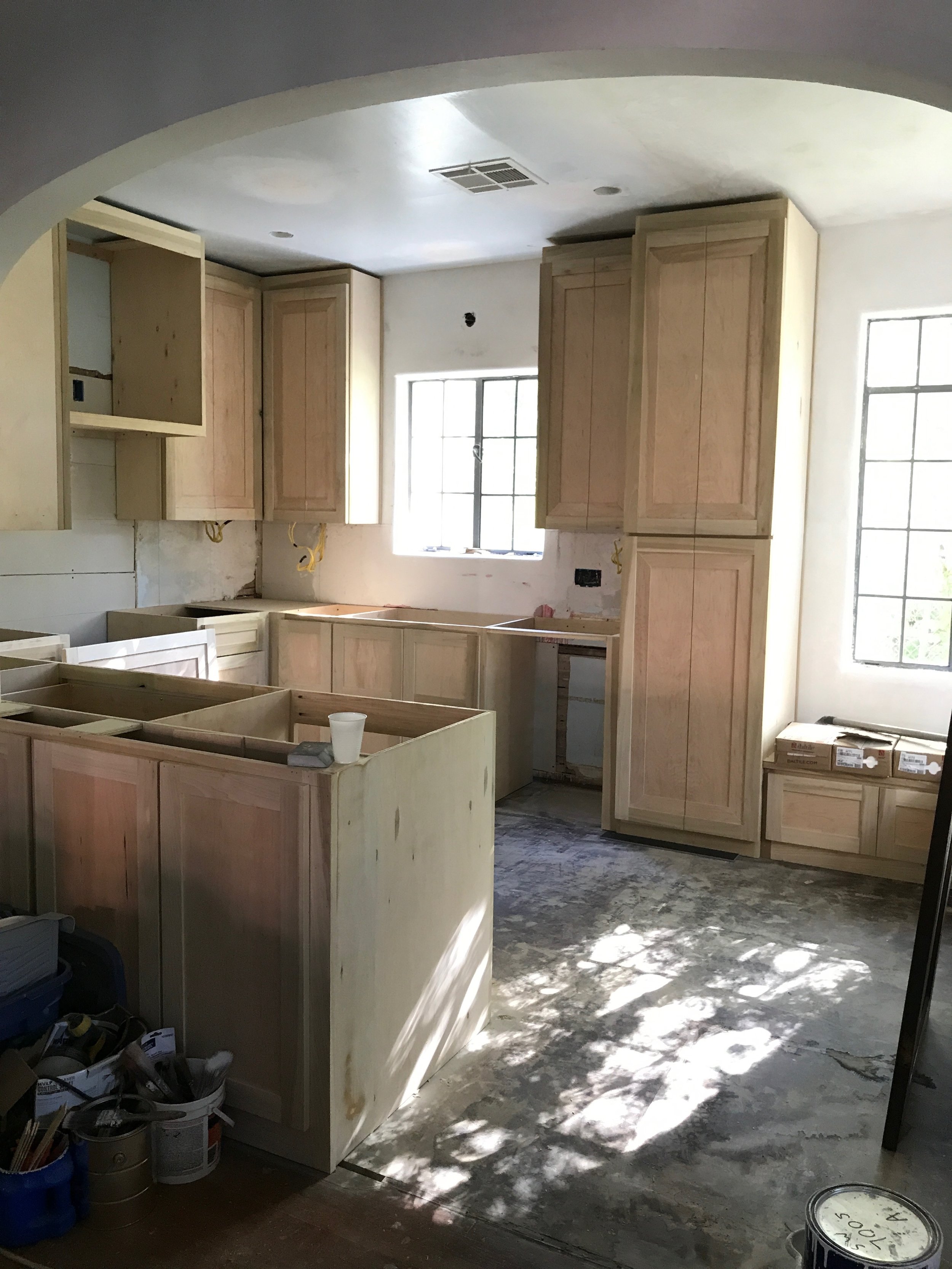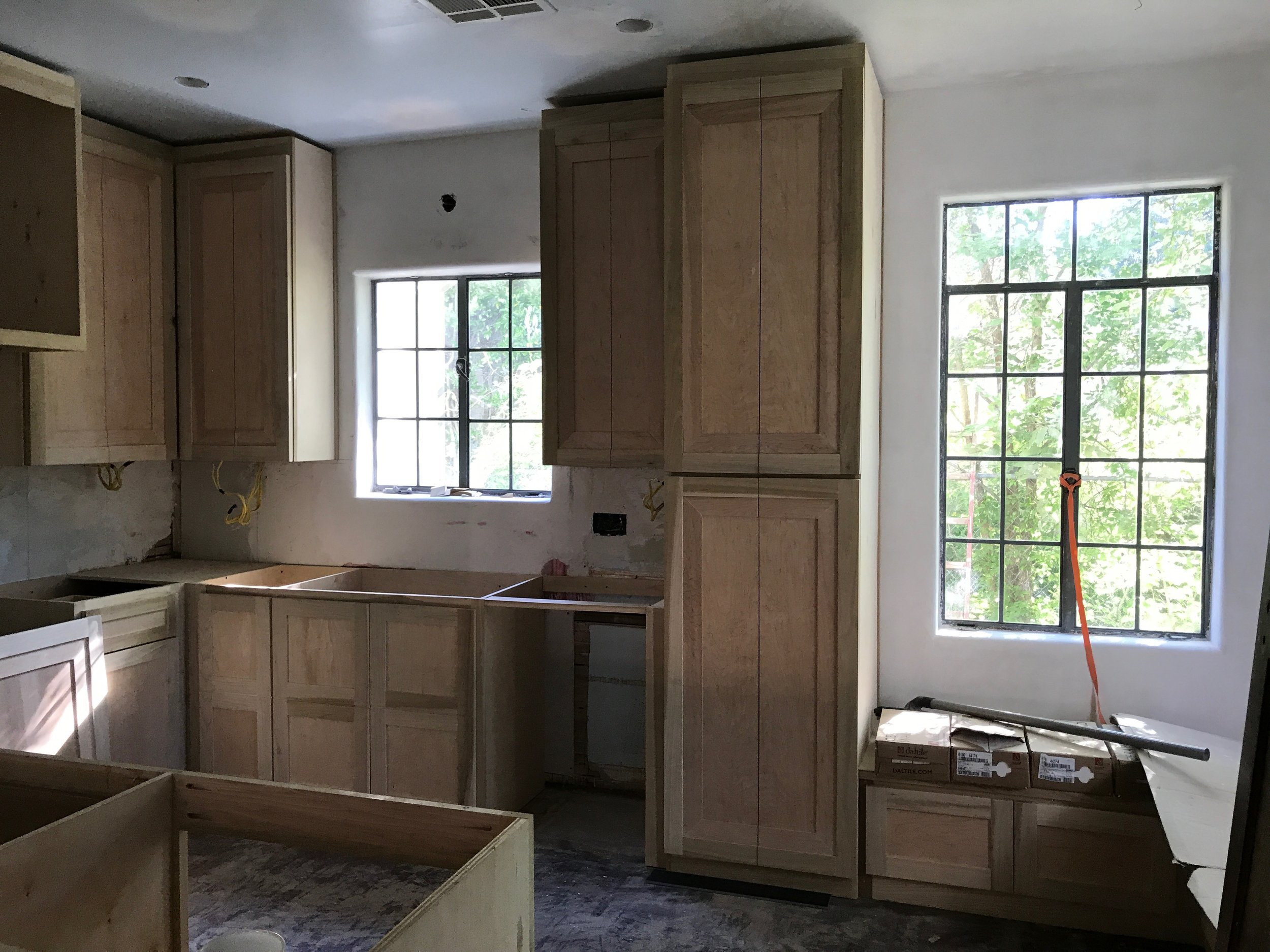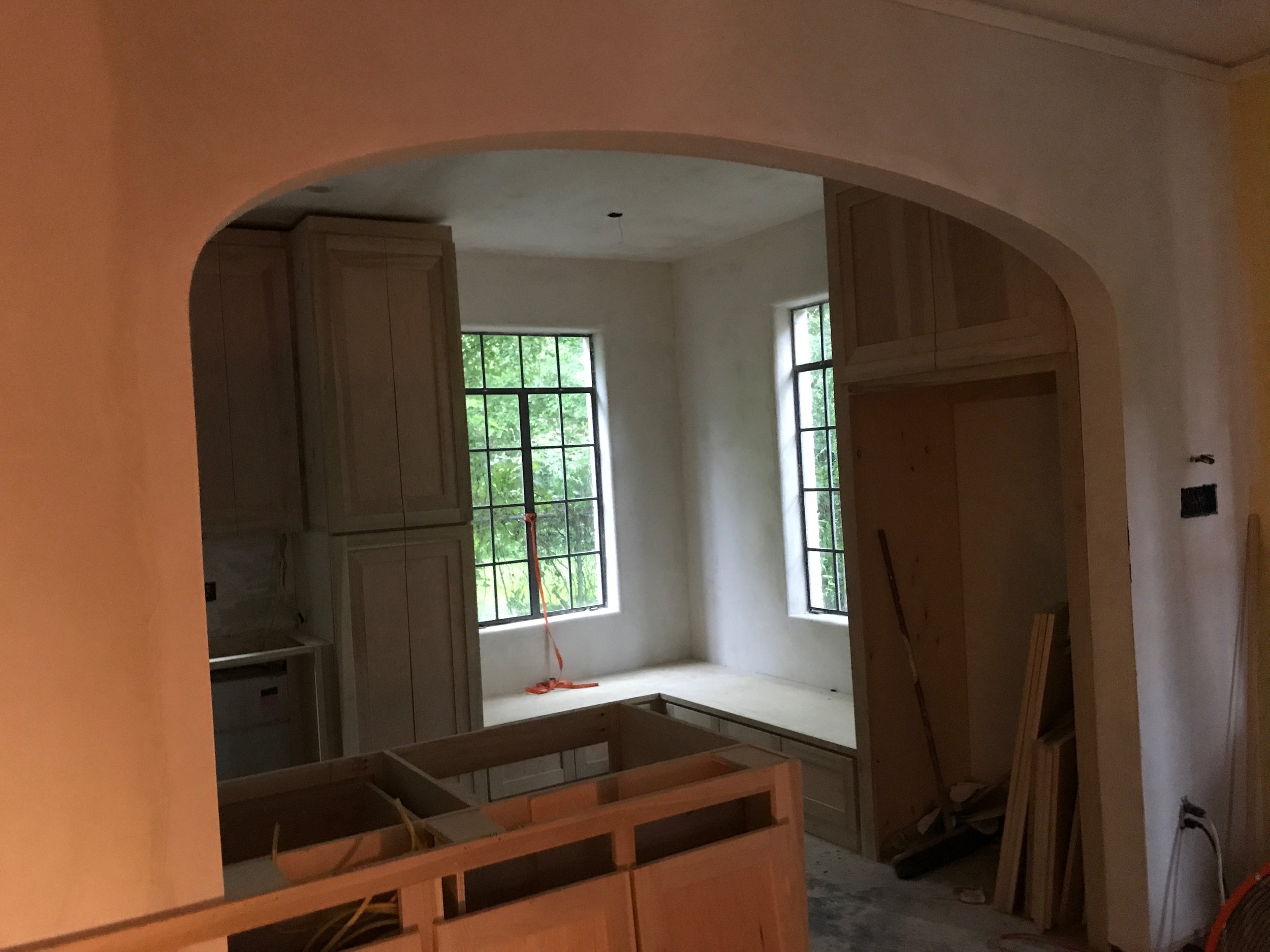 we still need to do some samples of the wood floor stains. Cast your vote on what you think it should be in the comments below!
- Bridget